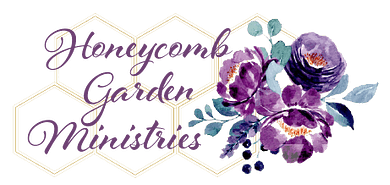 Honeycomb comes from Proverbs 16:24 which says "Pleasant words are as a honeycomb, sweet to the soul and healing to the bones." Encouraging, pleasant words can strengthen, heal and change our lives.
Garden comes from Genesis 2. God walked and talked with Adam and Eve in the garden. Today we as His children are still only truly fulfilled by time with Him.
Our story is still in the making and is a part of His story. Our founder, Megan, recieved the vision for Honeycomb Garden Ministries after a time of prayer and fasting. Utilizing her God-given spiritual gifts of Encouragment and Administration, she sought out official training for Life Coaching and Honeycomb Garden was birthed. We are still in our infancy and looking forward with expectant and grateful hearts to where and to whom God will lead this ministry.
Our goal, in everything we do, is to glorify God.
As Christians, we have personally experienced the restoration that a relationship with Jesus can bring. We seek the guidance of the Holy Spirit as we work to provide others with the guidance and opportunities to experience and grow in their own personal and saving relationship with Jesus Christ. We offer Life Coaching as a tool to assist in the discovery and discernment of God's good plans and unique purposes in the lives of those who seek it.